Meet face-to-face with over 20,000 water professionals from all over the world at Aquatech Amsterdam 2023, the world's leading trade show for process water, drinking water, and wastewater to be held between 6-9 November 2023. The trade fair attracts some 20,000 international policymakers, top-level businesses, specialists, and users of technology in practice to gather for four days of lively networking and doing business. At Aquatech, NWP, Water Alliance, and partners offer Dutch organisations the chance to bring their organisation to the attention of a large audience by participating in the extensive incoming mission programme and the lively Netherlands Pavilion.
Meeting international delegations
During Aquatech, NWP, Water Alliance, and partners will host incoming delegations from all over the world. We expect approximately 15 incoming delegations from Asia, Latin America, the USA, and Europe. By organising these delegation visits in a coherent incoming mission programme, we offer participating Dutch organisations a qualitatively strong programme, with an increased chance of (many) qualitative matches. The incoming mission programme primarily takes place on the exhibition floor. We encourage Dutch exhibitors to contact us with ideas for sessions or topics that you like to profile to the Aquatech visitors or incoming delegations. We will do our utmost to include your suggestion in the programming.
The programme we offer includes, among others:
Daily welcome ceremony to start the day at the Netherlands Pavilion (with a pitch talk by the mission leaders about what they are looking for)
Round-table sessions on certain topics hosted by Dutch organizations (lunch will be included)
Exhibition Tours (Netherlands Pavilion, Dutch participating organisations)
Dutch Double Dates (support in matchmaking)
Mentioning your company visit in the agenda of side events (on friday 10 November)
Participants of the Netherlands Pavilion, receive regular updates about the delegations and programming, such as matchmaking activities and the renowned networking reception at the Netherlands Pavilion. They will have unique access to the delegations, including timely information about the delegations, plus the opportunity to request a meeting with a specific delegation. On top of that, participants of the Netherlands Pavilion are promoted beforehand to the delegations, which increases international brand awareness and opportunities for making new connections. Participants in the Netherlands Pavilion automatically participate in the incoming mission programme, without additional costs. Dutch organisations, that do not participate in the Netherlands Pavilion, but have their own booth on Aquatech pay € 1,000 (max. of 2 persons) to participate in the incoming mission programme and Dutch organisations without a booth on Aquatech pay € 1,200 (max. of 2 pers.).
CONTACT

Mirjam van Buchem
Project Manager Events
CONTACT

Marieke Leenhouts
Project Manager Marketing, Communications & Events
Are you a Dutch organisation interested in expanding your business abroad, or looking for international customers, partners, or distributors? Join the incoming mission programme and connect with water professionals from all over the world.

MIRJAM VAN BUCHEM

NWP PROJECT MANAGER EVENTS
Netherlands Pavilion returns
The legendary Netherlands Pavilion, a buzzing hub for innovative technology displays and networking, will be back at the show in Hall 7. Companies interested in showcasing their products, services, and expertise are invited to sign up for stand space. The Netherlands Pavilion is created especially to highlight Dutch companies and organisations. It offers a premium location for your stand and the strong NL brand attracts visitors and buyer delegations to visit the companies and organisations in the Pavilion. Exhibiting in the Netherlands Pavilion means that you benefit from the combined strengths and expertise of NWP and Water Alliance, who have organised the Netherlands Pavilion at Aquatech Amsterdam for many years.
As an exhibitor, you also benefit from the international media reach of NWP and Water Alliance's promotional campaign. In addition, your organisation gains from the extra promotion of the Pavilion by the organisers of the Aquatech event.
Added value for participants of the Netherlands pavilion
Joining forces means a bigger impact! The Pavilion's size and design guarantee more attention for your organisation.
Excellent location on the exhibition floor, generating maximum footfall to your stand.
Opportunities for smaller stand space: cost-effective use of your time and resources.
Reduced costs because of economies of scale.
Distinctive NL brand stands out and draws in the crowd.
Unique networking opportunities with incoming delegations.
Worry-free project management as the experienced staff of NWP and Water Alliance is well-connected to the Aquatech organisers.
Years of NWP and Water Alliance experience results in high-quality service & on-site support allowing you more time to focus on your Marketing & Sales.
Promotion of your company through NWP, Water Alliance, and Aquatech's international media channels before and during the event (online and on-site).
The Netherlands Pavilion at Aquatech Amsterdam 2023 is a cooperation between the Netherlands Water Partnership (NWP), Partners voor Water, and Water Alliance.
Reserve your stand space at the Netherlands Pavilion
Do you wish to showcase your products at full scale in your own area in the Pavilion, or would you rather just feature your demo or scale model on a pedestal? NWP and Water Alliance offer a range of options. There are only a few spots left!
The Holland Innovation Park (HIP) offers special participation packages for start-ups or new innovative technology. Participation is subject to meeting a pre-defined set of criteria and all entries will be reviewed by an expert panel before being admitted to the Holland Innovation Park. If you are interested in joining the HIP, contact Tiemen Jousma > [email protected] or go to: Water Alliance.
Review the stand design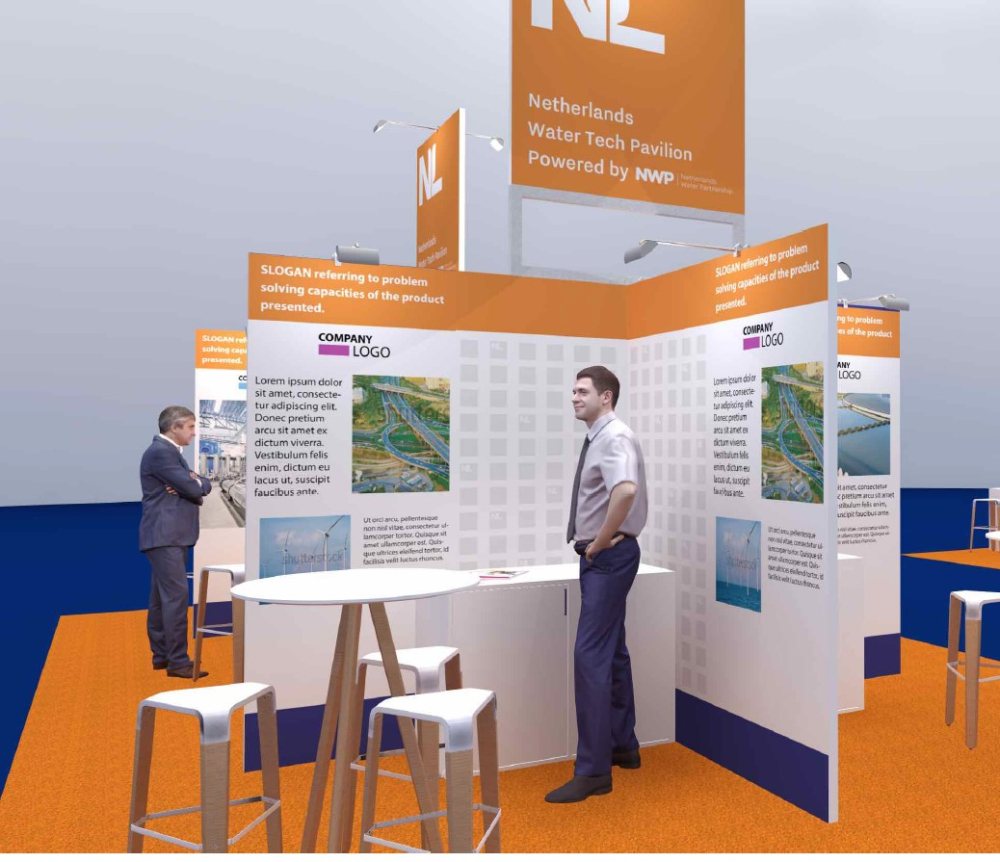 Artist impression of Netherlands Pavilion at Aquatech Amsterdam 2023
Let us know if you want to reserve your stand space in the Netherlands Pavilion. We would also like to hear about your specific interests so that we can further align your wishes with the incoming mission programme.
Please fill in the form below to express your interest and you will be contacted shortly. Please note that the confirmation email of your registration may end up in your spam email box, so check your spam email box after registration.